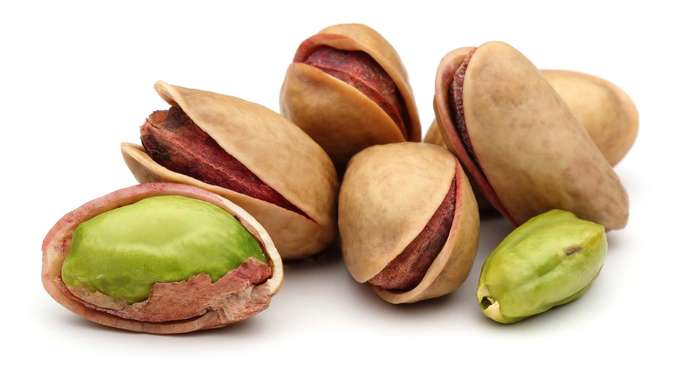 Pistachio nut day is on 26th February 2021
We love pistachios here at 121 Dietitian so when we spotted there was a special world pistachio day we felt we had to give them a big shout out!
Did you know:
• Pistachio are nuts native to Western Asia and Asia Minor, archaeology suggests that pistachios were eaten as a common food as early as 6750 BC. Wow!
• They are one of the more expensive of the nuts out there because of the trees on which they grow. It only reaches production 15-20 years after being planted. Isn't that crazy!
• Pistachio trees can only produce about 22kg of nuts each year. Furthermore, pistachios are sorted by hand and not by machine.
• Pistachio trees can only grow in cool winters and hot summers, meaning that there's only a few locations in the world where the trees can grow.
• Iran is the biggest producer of pistachio nuts ahead of USA and then Turkey.
How to eat:
When eating pistachios from the shell, split the shell and eat the small kernel inside. The kernel may have a thin skin on it that do eat this for upping polyphenols. If you find a nut in a shell that doesn't pry apart easily, simply use a nutcracker to open it up.
As a snack. Eating pistachios raw or roasted. Both in-shell and shelled pistachios are available in grocery stores.
Over salads. Shelled pistachios (either whole or chopped) are often sprinkled over salads. Pistachios can also be puréed and mixed with oil and herbs to make a creamy salad dressing.
Ground into sauces. Ground pistachios are popular as a base for sauces and dips, like pistachio-yogurt sauce.
Added to bread dough. Ground pistachios can be added to bread dough to give it a thicker texture with extra protein.
In desserts. Chopped pistachios are commonly mixed into or sprinkled atop desserts like ice cream, cake, truffles, and pastries.
Pistachios are also a common ingredient in dishes from an array of cultures:
• In Turkish dishes. Pistachios are most well-known in Turkish recipes for being minced and layered in the traditional baklava.
• In Italian dishes. Pistachios are a common addition to Italian pastas, either chopped and mixed in to the noodles or ground and made into a spiced pistachio sauce.
• In Indian dishes. Indian food makes ample use of pistachios, and they're a staple ingredient in many Indian rice puddings, pilafs, cookies, and a spiced pistachio fudge called pista barfi.
• In Iranian dishes. pistachios are a common ingredient mixed into Iranian chicken and rice dishes, and also served as a traditional Persian snack, roasted with lemon juice and saffron and tossed with sea salt.
Nutrition
Pistachios are high in fibre: Eating pistachios can improve your gut health if you have no ongoing dysbiosis issues. Rich fibre foods help move food through the gut and prevent constipation and may help reduce the risk of colon cancer.
Pistachios are high in antioxidants: Pistachios are known to contain antioxidants that have strong cancer-fighting properties and cardiovascular disease prevention. Furthermore, pistachios also contain lutein and zeaxanthin, two carotenoids that help maintain eye health and overall immunity.
Pistachios are great for vegans and vegetarians: With protein accounting for almost 21% of the total weight of the nut, pistachios contribute almost 6% to a person's daily protein needs. For plant-based diets, pistachios provide that much-needed protein.
Relative to other tree nuts, pistachios have a lower amount of fat and calories but higher amounts of potassium, vitamin K, γ-tocopherol, and certain phytochemicals such as carotenoids, and phytosterols.
A handful of pistachios (45) contain 156 calories, 3 grams of fibre, and are one of the most vitamin B6-rich foods around.
Do you enjoy eating pistachio's? they are so tasty if you haven't tried them then don't continue to miss out, try them as part of a bigger plan to increase variety in your diet.
Let us know what you think!!
Gillian x
info@121dietitian.com